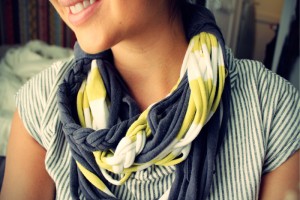 No, not this winter. I hate those scratchy wool scarves. Really I do. I will not wear any of that nonsense this year. This year, I will put my abundance of old t-shirts to use and make myself some cute scarves. We've shown you how to turn your hoodie into a laptop sleeve, and how to turn old t-shirts into a pillow chair. This week we're dialing it back a notch and keeping the t-shirts safely in the clothing realm.
Cutoutandkeep.net features no less than 33 different versions of t-shirt scarves. You can go there for inspiration and instruction in the fabulous recycled t-shirt circle scarf! Lots of ideas, colors and great photos that helped me to plan color combinations. Which t-shirts will you rip to shreds for scarf greatness?
Ninthandbird.com wins my completely unofficial award for best DIY Recycled T-shirt Scarf photography. I love the shirt colors she chose for her scarf and how she wound the pieces together. The instructions are super-easy as well!
So let's get started, gang! Post photos of your recycled t-shirt scarf below for a chance to win a cool BlueCotton prize.