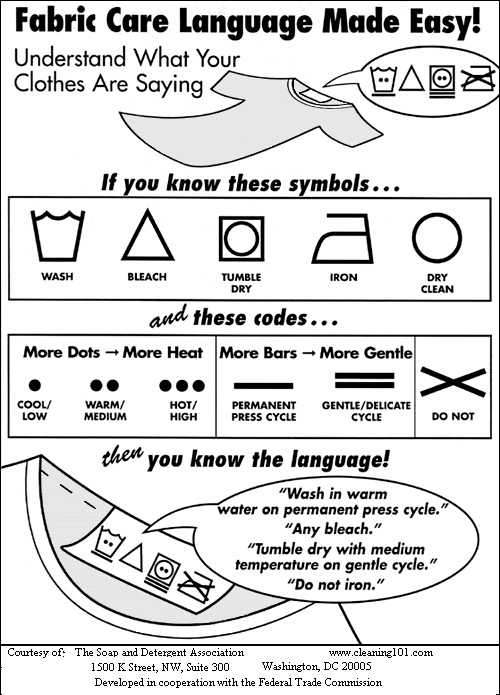 Sure, a t-shirt is not as high-maintenance as a wool sweater, but there are some things you should know about the proper care and feeding of a new t-shirt. Your shirt can have a long and purposeful life, and here are a few tips to help you care for your new baby.
1. The first and easiest thing to do is turn your shirt wrong side out when you put it in the laundry. It's already half-way there and you know it. Go ahead and flip it all the way inside out. This protects the print from being beat up by other items during the washing cycle, and reduces the pilling factor.
2. While washing with "like" colors is always recommended, also consider washing your t-shirts only with similar weight fabrics. Avoid washing jeans and other heavy materials with your t-shirts.
3. The label in the back of your shirt gives you a few hints as to your t-shirt's particular needs. Although t-shirts may all look the same, they do have different requirements in terms of wash temperature. It may be a cool wash or a warm wash depending on the fabric or blend of fabrics. Going beyond the basic light and darks sorting rule will help preserve the integrity of your t-shirt. Begin sorting according to the temperature of the water that the label requests. Use cold water for t-shirts with sensitive colors, and 100% cotton shirts that could shrink. Cold water also lessens the amount of wrinkling and helps keep colors from fading. Use warm water for moderately-soiled shirts, or if the garment requests it specifically. When in doubt – you can't go wrong with cold water.
3. Perhaps the most common question I am asked in Customer Service is "Will it shrink?" The best way to avoid t-shirt shrinkage is to remove it from the dryer while it is still slightly damp and allow it to air dry. Overheating during extended periods in the dryer puts undue stress on the fibers of your shirt. Although all 100% cotton t-shirts are now produced with pre-shrunk fibers, a cotton t-shirt will still shrink if dried completely in the dryer. It is ideal to allow the shirt to air dry at room temperature if time and space allows.
Ever been stumped by the mysterious symbols on the tag in your t-shirt? Find the Rosetta Stone of fabric care labels below.