Every year, more than 2 billion T-shirts are sold around the world. The custom tee printing market is booming, and it shows no signs of slowing down. That's why there are many T-shirt customization options available to accommodate your design. In this guide, you can compare vinyl printing and screen printing to decide which one is better for your custom T-shirt design.
Screen Print vs. Vinyl Print
You can create custom shirts with either screen printing or vinyl printing. To help decide how you want your custom tee created, consider the details of each method and learn what their differences are.
With screen printing, it all starts with fine mesh screens that have a stencil of your design made with emulsion (a light-sensitive liquid). Using a screen for each layer or color, ink is squeezed through these stencils and onto the T-shirt of your choice by a squeegee. After everything is applied to the tee, a high-heat dryer quickly dries the ink so the shirt is ready to go.
Vinyl printing uses heat transference to apply custom designs to T-shirts. The design is cut out of vinyl mechanically and a heat press adheres it to the shirt with pressure and high temperatures. Lastly, the custom garments are cooled before the backing is removed.
Learn more details about these methods in our FAQs.
Screen printing

Vinyl printing

Pros

Works on several fabrics

Easy personalization

Wide selection of vibrant colors

Crisp appearance

Wash resistant

Can be a DIY-friendly project

Ideal for multiple shirts with the same design

Great for 1 or 2 shirts

Cons

Cost prohibitive for 1-5 shirts

Can be stiff

Not an easy DIY project

Low-cost supplies mean a risk of inexperienced DIYers and boutiques making your shirt

Limited color options
One of the biggest risks with vinyl printing is purchasing a larger custom order from a small operation, leading to long delivery times and potentially inconsistent appearances. Because this customization method is good for one to two shirts and doesn't cost much for startups, it's very possible to end up in this situation without realizing it-until you're trying to get in touch with their customer service team about your delayed or low-quality order.
Look at product reviews to see whether a company offers good value, fast delivery and reliable customer service. If speed is your priority, look for services like Shirts in a Day or Super Rush.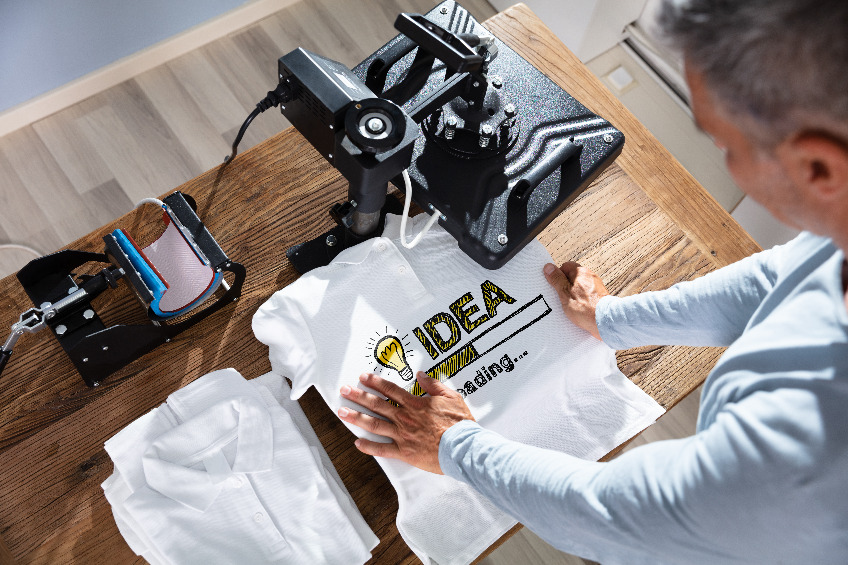 When and How to Use Both Custom Printing Methods
At BlueCotton, we use both screen and vinyl printing for custom garments. What method or combination we use depends on the application. We always choose screen printing for applying your custom design to your T-shirts. However, for individual personalization on a garment, we turn to heat-pressed vinyl. For example, when you use the Names and Numbers feature in our Design Studio, we cut out these names and numbers from vinyl in the font and color you chose.
If you also ordered a screen-printed color in your design, you could use the Special Instructions box to request that it matches the vinyl color you picked. While not every single shade has an identical one in both ink and vinyl, our U.S. team of experts will find an ink color that matches or closely resembles your vinyl color.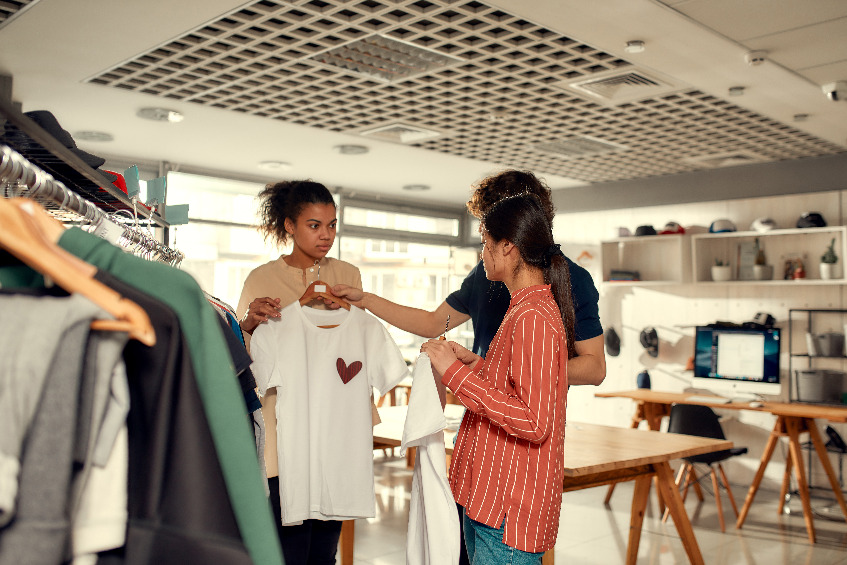 Best T-Shirts for Screen and Vinyl Printing
Let's look at our three most popular short-sleeve T-shirts for screen printing. The Jerzees Vintage Heathers tee has a seamless body for large printing space and a trendy heathered look. Meanwhile, the 5180 Hanes Beefy-T has high-stitch density that makes it a smooth canvas. These two tees also come in youth sizes. For maximum comfort, you'd pick the soft TR401 American Apparel Tri-Blend Tee.
A vinyl print T-shirt can't be made of some synthetic materials that will melt under the heat press. Choose cotton or polyester shirts, including poly-cotton blends, which can stand up to the high temperatures in vinyl printing. One of the bestselling shirts for this is the 5000 Gildan Heavy Cotton T-Shirt, which is either 100% cotton or a poly-cotton blend depending on the color chosen (and comes in a long-sleeve style too). Start your design at BlueCotton today!