It should come as no surprise that we at BlueCotton love t-shirts – especially unique, rare, and iconic t-shirts. It's not uncommon while walking around our office to overhear someone remarking about finding a great shirt over the weekend, what their favorite shirt is, or having a light-hearted debate about the greatest t-shirt of all time.
A t-shirt is just a t-shirt, right? Wrong. Especially if you've spent as much time around this industry as we have. While the t-shirt got its humble beginnings in 1913 when the U.S. Navy issued crewneck tees to be worn under uniforms, in the decades to come, T-shirts turned more stylish with prints and slogans. They got political in the 1940s when New York Governor Thomas E Dewey's campaign designed ones with the phrase "Dew it with Dewey" printed on them when he ran for president. Even Hollywood contributed to the T-shirt's popularity when Marlon Brando sported one in the 1951 film A Streetcar Named Desire.
Create Your Own Iconic T-shirt Today with BlueCotton
While it's impossible to decide which is the greatest t-shirt of all time – and trust us, we've tried – we were able to come to some agreement on 20 that stood out to us in one way or another.
The following list is a stroll down memory lane through popular movies, rock 'n' roll, cultural movements, social statements, funky fads and so much more. We hope you enjoy and share with friends.
Superlative Luxury T-Shirt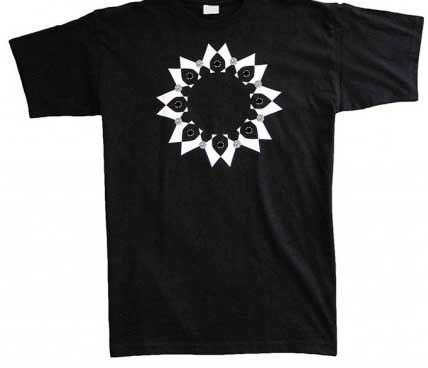 Where else can we begin this list but with a shirt that has a sticker price of $400,000? Superlative shirt designs were introduced in 2012 in London and, depending on who you ask, is the most expensive t-shirt in the world. This shirt is plain black with a spherical pattern that has 16 certified diamonds on it.
Led Zeppelin 1979 Backstage Pass T-Shirt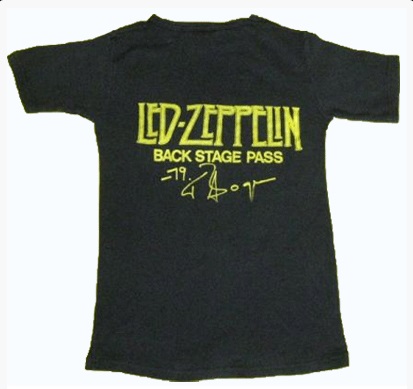 When you return to the stage after a four-year break and everyone in the world wants a backstage pass, what do you do? Well if you're rock legends Led Zeppelin, you create a limited number of t-shirts printed to act as passes, both to keep people from counterfeiting passes, as well as letting your special guests feel extra special. And, for the lucky concert-goers who kept their shirt all these years, they now sell for more than $10,000, making them the rarest and most sought-after Led Zeppelin t-shirts in the world. This is a prime example of vintage band t shirts.
J$ "King of NY" T-Shirt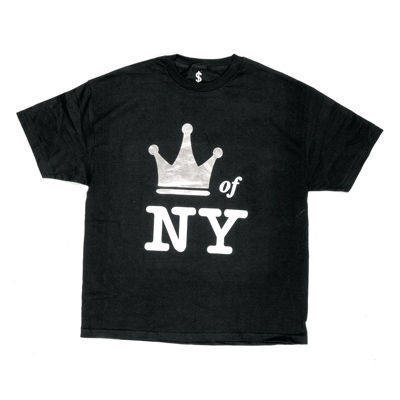 This shirt makes the list due to its rarity. Initially produced as a collaboration with filmmaker Joe Chan, no two seasons of the King of NY collection are alike, as they used different printing processes and color schemes every time.
Rolling Stones "LICK" T-Shirt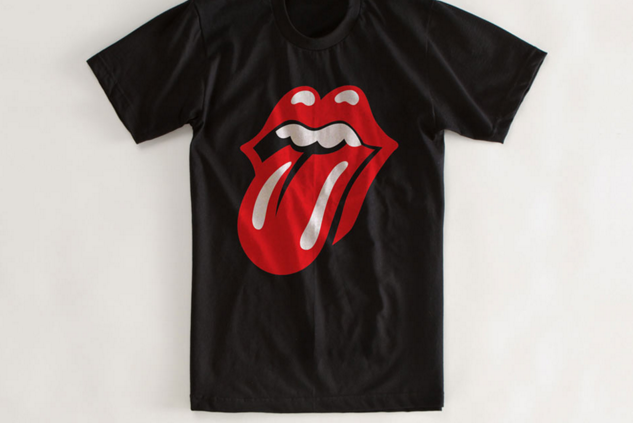 No list is complete without the iconic Rolling Stones "Lick" shirt. The history goes, that after several failed attempts by the record label to provide them a logo of their liking, Mick Jagger took things into his own hands. The band logo was eventually designed by John Pasche, an art student at the Royal College of Art in London at the time, and was introduced to the public in 1970.
UNICEF Cargo Flight T-Shirt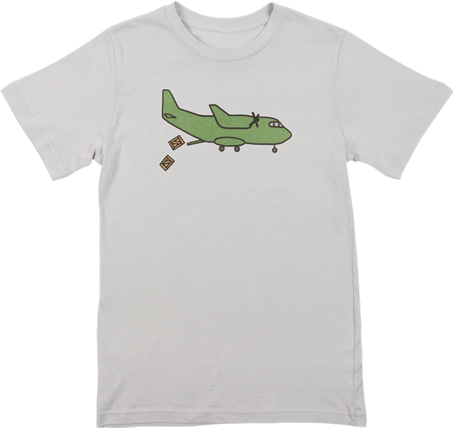 UNICEF began selling t-shirts as a way to create awareness for their programs, which provide food, clothes, shelter, and more to people around the world in need. The prices on most of their shirts range from $18 to $1000, however, one particular shirt, which is just a simple white shirt with a green printed plane dropping supplies, recently sold for almost $300,000.
UNICEF 1996 Olympics T-shirt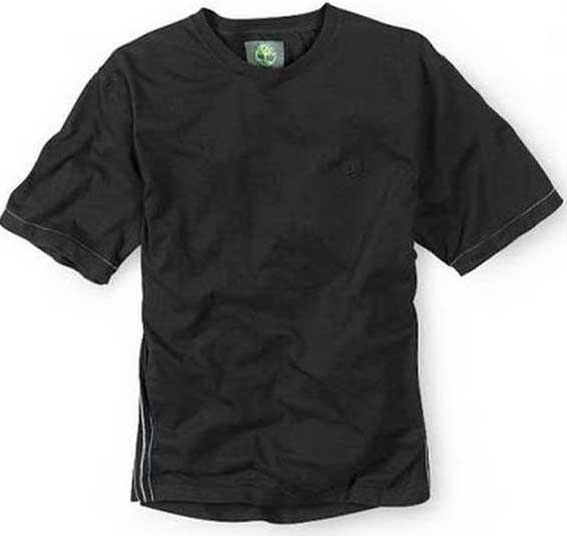 As we mentioned above, UNICEF's shirts have done an amazing job raising money for many of their causes. Similarly, these t-shirts from the 1996 Olympics games in Atlanta raised nearly $1 million in total, with the highest bid generated on the final day of auction reaching $42,000.
Apple Invisible Man "Think" Shirt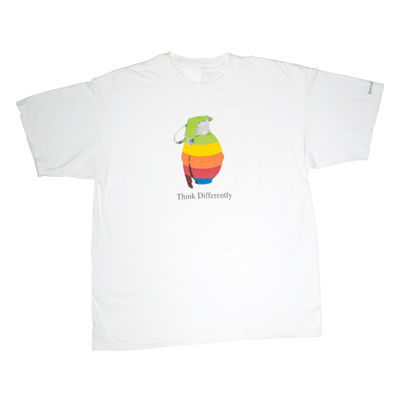 Talk about a blast from the past? Most of the iPhone generation won't remember that when this t-shirt first came out, Apple was the underdog in the tech world. This shirt is not only a reminder of the days when Apple was nothing more than a small upstart, but it's also a highly sought-after collector's item.
John Lennon Home T-shirt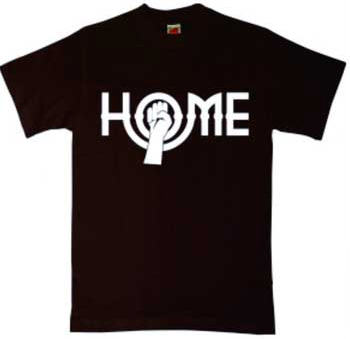 The Home "T" shirts have been world-famous ever since John Lennon took a photo wearing one. They were designed by Finn of FINN studios and made for the owner of the restaurant called Home. While you can find replica shirts in a number of places, John Lennon's original shirt was auctioned off for $16,400.
Run-D.M.C "My Adidas" T-shirt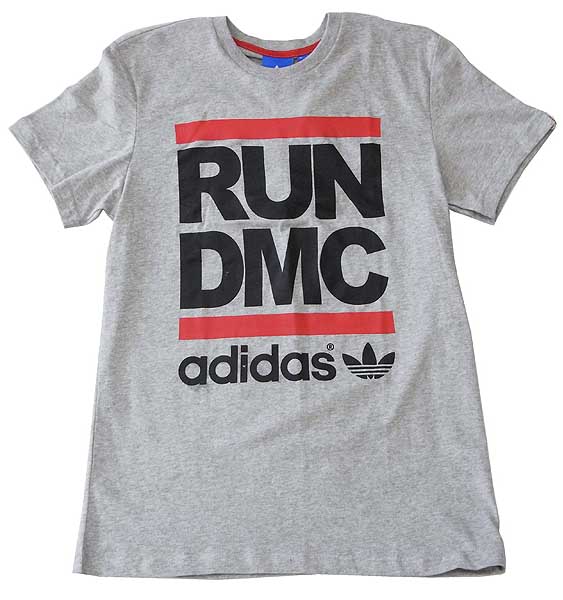 The rise of hip hop in the 80's and subsequent connection to a new clothing style was most evident with this Run-D.M.C Adidas t-shirt. Before Adidas started making new versions of this classic, originals from their tour were fetching upwards of $13,000.
John Lennon 1971 War Is Over T-shirt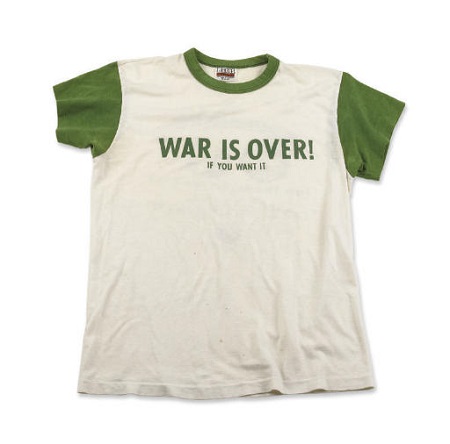 Many people are familiar with Happy Xmas (War is Over), arguably one of the most popular Christmas songs of all time, which was originally performed by John Lennon and the Plastic Ono Band in 1971. What you may not be familiar with is that they designed a series of t-shirts bearing the song's lyrics "War is over! If you want it!" to promote the single. There aren't many still left and in 2007 a surviving shirt sold at Christie's in New York for $1,875.
Vote For Pedro T-Shirt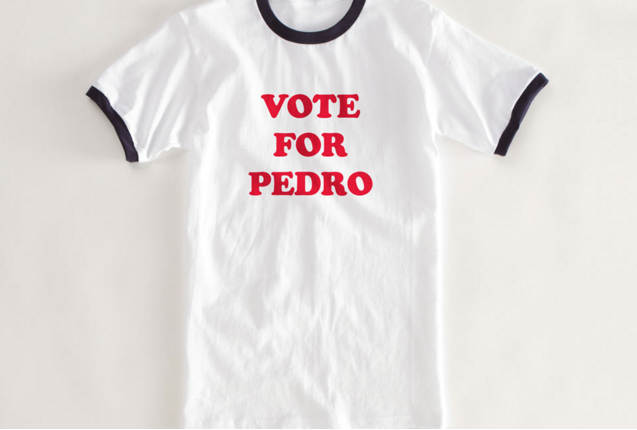 This is in reference to the 2004 cult classic movie Napoleon Dynamite. The Vote for Pedo t-shirt has remained popular over the last 10 years, even though it's a relatively simple design. This is a great example of what impact visuals can have on the public.
Rolling Stones 1973 Goats Head Soup Tour Crew Shirt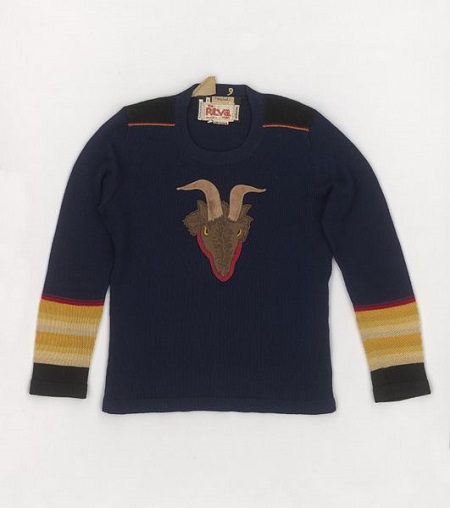 Only 50 of these embroidered shirts, created for the crew members of the Rolling Stones' 1973 tour, were ever made, and only a few are believed to still exist. Created by Ritva and Mike Ross, recently one sold at Christie's in New York for $4,250.
D.A.R.E. T-Shirt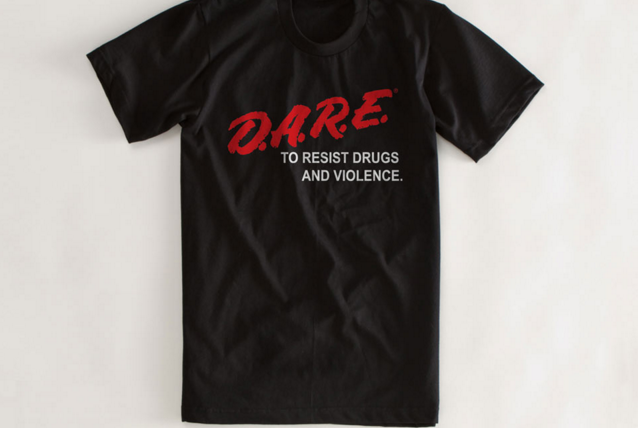 A staple for any kid who grew up in the late '80s or early '90s, the Drug Abuse Resistance Education Association (D.A.R.E.) used these free t-shirts as a way to promote their program which aimed to prevent teenagers from using drugs or engaging in gangs and violence. Today, with an international presence in over 52 countries around the world, D.A.R.E. t-shirts are still commonly seen.
1969 Woodstock T-shirt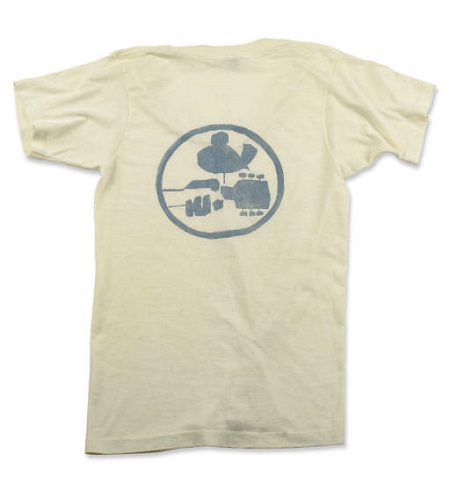 While most music festivals today have dozens of merchandise stands set up, when half a million people descended on Max Yasgur's farm in New York in August 1969, that wasn't one of the things they found. In fact, not a single piece of merchandise was created by the organizers of Woodstock, and the only Woodstock shirts available were created by people who set up roadside stalls. The above shirt is one example, and it recently fetched $1,188 at Christie's in 2007.
Kanye West's "Hip Hop Shirt"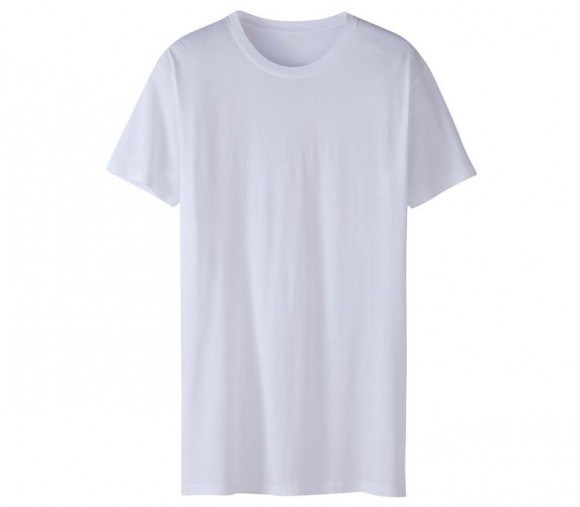 We love the traditional white t-shirt, but rarely do you see one that retails for $120. Enter Kanye West's fashion collaboration with French clothing store A.P.C., which aimed to create a line of "luxurious clothing for the young and beautiful". One such piece is this shirt, labeled the "Hip Hop Shirt". Not only does it retail for $120, but it actually sold out!
1977 The Runaways Tour T-shirt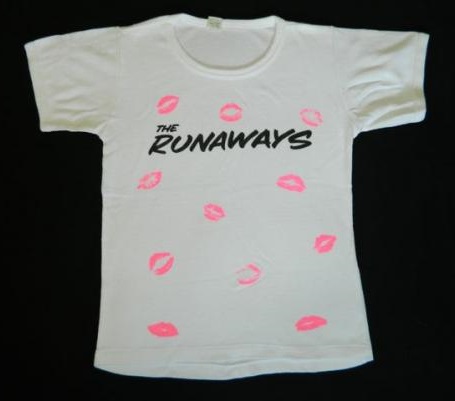 The all-girl rock band The Runaways found themselves at the heart of the emerging punk scene on both sides of the Atlantic, and embarked on a world tour in 1977. Their European 'School Days' tour included 24 shows from October to December of that year, and the t-shirts that survived from that tour are now valued at up to $7,500 each.
Nike "Just Do It" T-Shirts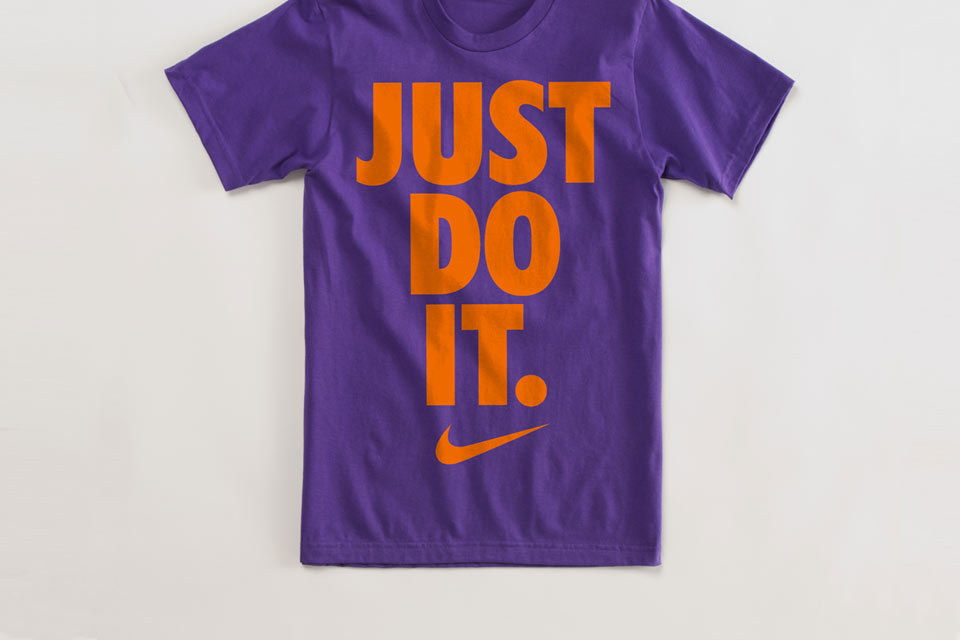 The slogan was coined in 1988 at an advertising agency meeting. The founder of Wieden+Kennedy agency, Dan Wieden credits the inspiration for his "Just Do It" Nike slogan to Gary Gilmore's last words before execution. While not the happiest of thoughts, this slogan, and the millions of t-shirts that it is written on, have become a staple of the 21st century.
1982 Metallica Metal Up Yours Shirt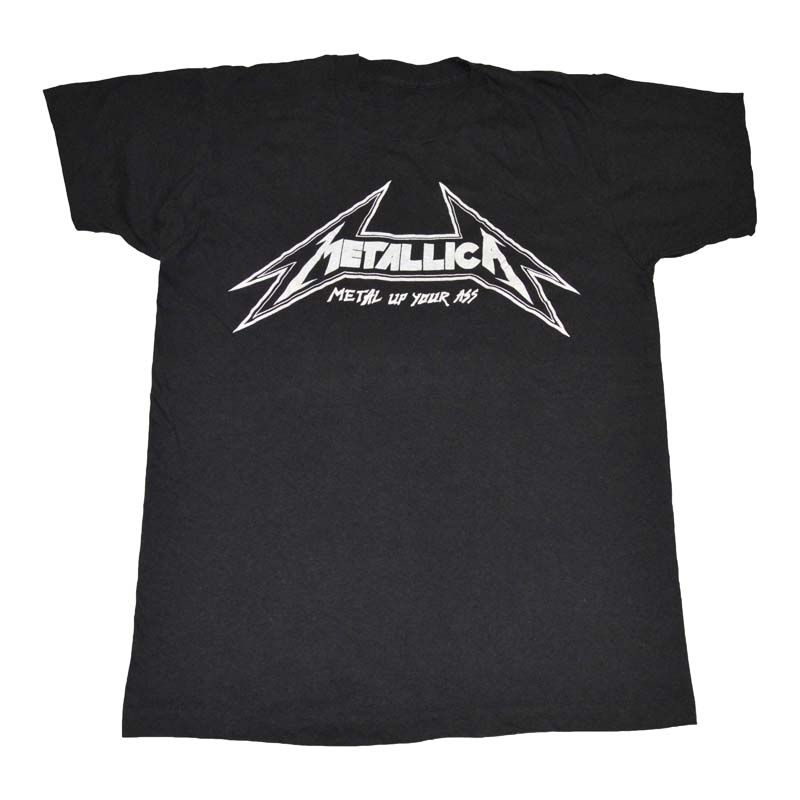 The original 1982 Metallica shirt is the second shirt Metallica created for sale. It is one of the most sought-after metal shirts in the world, and one of the hardest to find. Most of these never made it out of the 80s. The ones that did have become collector's items, as evident by Kim Kardashian spending over $2,000 for one.
Ready To Design Your Own Iconic T-Shirt?
Your podcast audience is growing. Your YouTube channel is exploding. You're well on your way to being a TikTok influencer. You're practically a social media icon. We promise you, your fans want merch, and they want it now! BlueCotton makes it so quick and easy to design your own custom t-shirts, there's no reason to procrastinate any longer. Use our online t-shirt designer to create your unique iconic look. If you already have a design, just upload it and add to cart. We'll have them printed and delivered before your next post.