Whether you're planning on running a marathon, going on a jog for charity, or just running on your own, why not dress in some clothes to help you get motivated? We've compiled a few awesome shirts and designs with some great sayings that we feel really encompasses the essence of running. Have a look and see if there are any you like – or head over to our Design Studio to create some for yourself.
A Good Suggestion
Sloth Running Team: Let's Nap Instead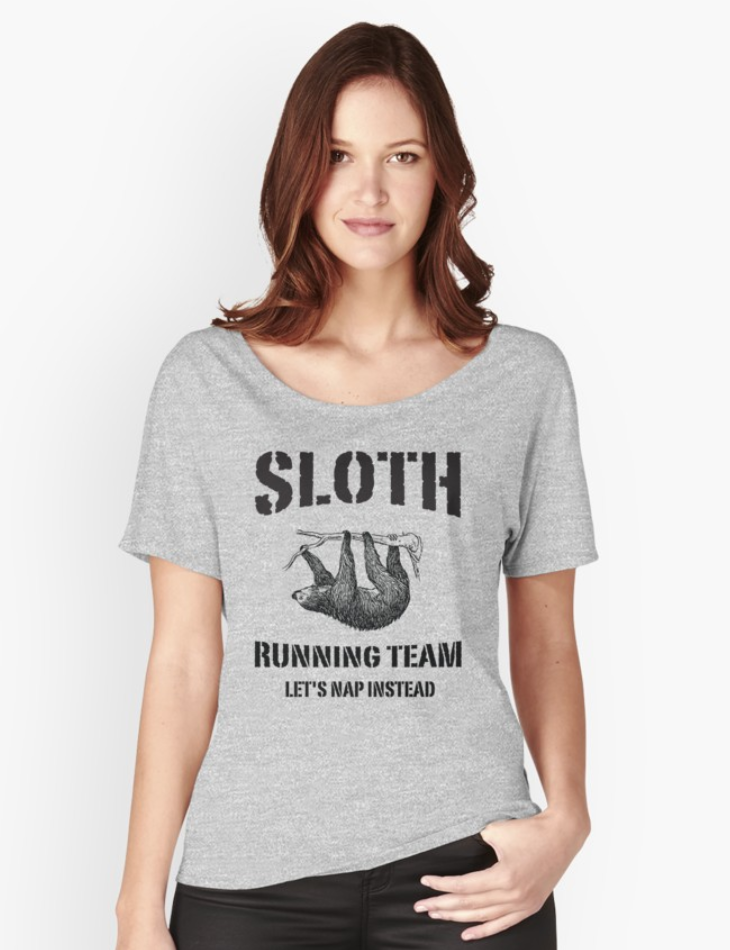 We'd imagine the number of people here who'd actually combine the words "fun" and "run" are pretty few and far between. Here's a shirt for everyone else.
Slow Runners
Slow Runners Make Fast Runners Look Good: You're Welcome
It's good to be realistic. If this is your first fun run, there's a pretty good chance you aren't going to be the leader of the pack. Why not take that knowledge with a grain of salt and have a little fun?
Run Different
We're certain there are at least a few Apple fans in the audience. This one's for you fine folks. Wear it with pride while you're out on your next run.
Realism
If found on ground, please drag across finish line.
It's always good to be prepared. If you're more of a couch potato than a marathon runner, it might not be a bad idea to toss this shirt on before your fun run.
One For The Trekkies
There's not a whole lot else to be said about this one. Toss this one on to sport your nerd pride while you're on the track.
Lead The Way!
Because there's nothing quite like a nice, cold brew after a day of hitting the pavement. And if you're a beer aficionado yourself, there's nothing quite like this shirt to announce it.
Rabies Awareness
We've got two words for you: rabid bears. Keep that in your mind during your fun run, and you'll be fast as lightning.
Not Last
If you can see this, I'm not last
Someone's gotta be last – show that you're confident it won't be you by dashing into the fun run wearing this T-Shirt.
Zombie Run
Because what better reason is there for running than to escape from the clutches of the living dead?
It's An Honest Mistake
I mean really, there's only a one letter difference. Anyone could mishear it.
A Decent Enough Pun
Everyone can do with a good meaty pun every now and then – especially if you're going to be spending the day sweating like mad on a run.
It Really Isn't.
Running…Because Dieting Is Not An Option
When it comes to getting in shape, the best way to do it is through a strict diet, a dedicated exercise regimen, and a whole lot of discipline. Or you could just toss that out the window, run a bunch, and eat whatever you want.
Personally, we like the second option.
We're All Mad Here
Running is a mental sport. And we're all INSANE!
If the shoe fits, you might as well wear it, right?
An Old Classic
We'll wrap things up with an entry which, while it's not necessarily as funny as the others, is so tried and true you really can't go wrong.