One of the most enduring (and, if you run with the right circles, familiar) aspects of internet culture is in memes. These humorous images, videos, ideas, or bits of text are some of the most successful pieces of viral content on the web, and have a tendency to both spread like wildfire and change with greater rapidity than the tides.
They also more or less defy explanation, as well. The majority of people who set out intentionally trying to create a meme – whether for marketing purposes or out of artistic arrogance – fail miserably at doing so. If you've immersed yourself in this sort of culture, why not celebrate it with a shirt or two?
As always, we've provided a healthy list of examples – once you've perused them, head over to our design studio to see if you don't feel inspired to create something of your own.  
Dank Meme
by devobo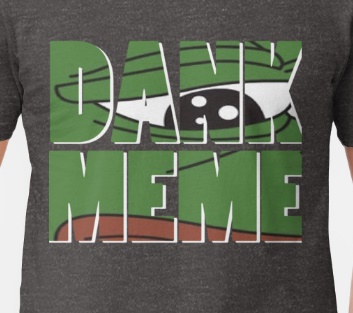 We'll start with something simple – some stylized text with Pepe peeking out. Wonder how rare this one is?  Maybe not the best-looking shirt in the world, but certainly not the worst, right? […]