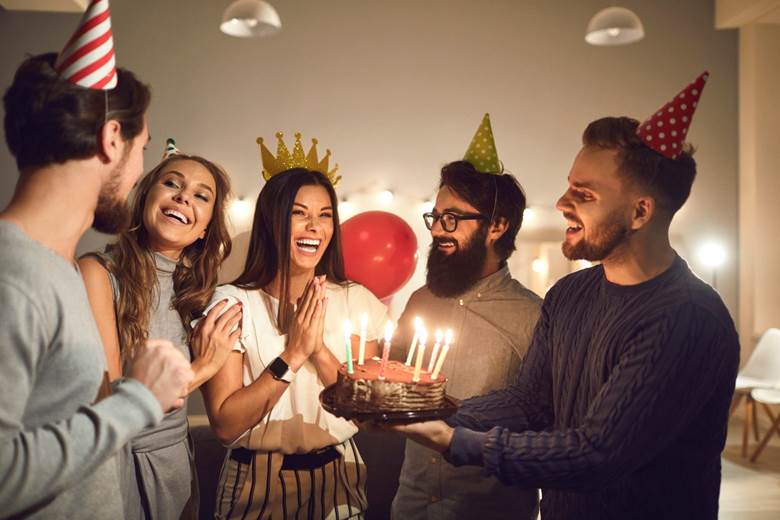 A few months ago, my youngest nephew turned six years old. One of his absolute favorite things right now is the popular smartphone game, Angry Birds. He's constantly playing it on his mom's iPhone. He loves to draw impressive illustrations of all the different bird characters. Heck, even the comforter set on his bed is Angry Birds themed.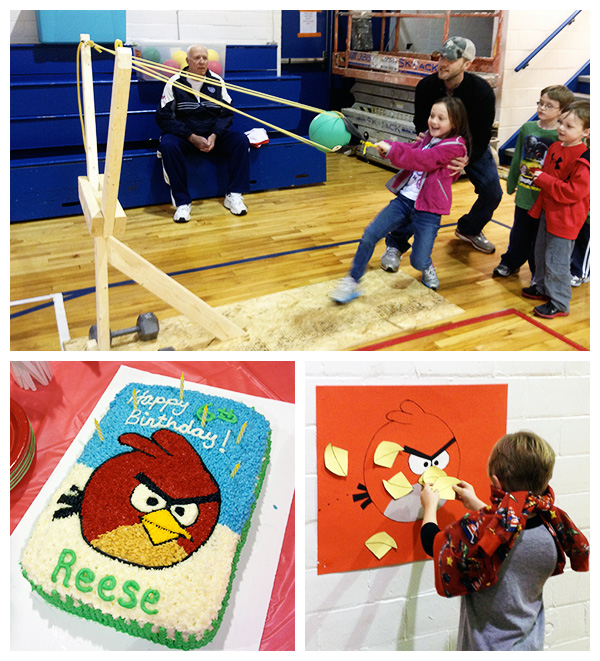 When it came time to celebrate his 6th birthday, it was an obvious decision to base his party around his current obsession. He had an Angry Birds cake, plates and, of course, he wore his Angry Birds T-shirt. The coolest thing, however, had to be the human-sized slingshot built by my brother-in-law. My sister painted different-colored rubber balls to look like the different birds and everyone took turns launching them at a tall stack of cardboard boxes. It was just like the game, but in real life! The kids had an absolute blast, but all the adults eventually found themselves wanting to try it, too.
I found myself asking, "Why do kids get to have all the fun?" As grown-ups, we all have things we enjoy, just like my nephew. Sure, it may be silly for an adult to have an Angry Birds party, but that doesn't mean we can't have some fun themed birthday parties of our own. Here are a handful of cool ideas for themed birthday parties that were created especially for the "big kids."
1. Mad Men Party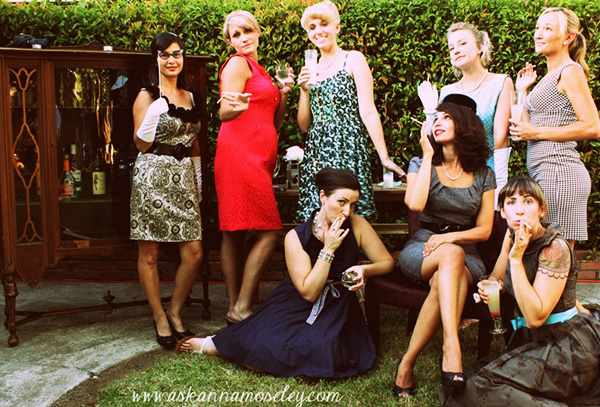 Mad Men ran from 2007 to 2015, and it's still one of the hippest shows on television after over 90 episodes across seven seasons. A winner of four Primetime Emmy Awards for outstanding drama series, Mad Men is an authentic interpretation of 1960s America. Not only is the visual style and art direction spot-on, the series also provides an accurate look at social issues of the time. Mad Men is already one of those shows that naturally draws people together to watch as a group, and with the distinct look of the 1960s, it's the perfect inspiration for a themed party.
Anna Moseley, from AskAnna, has a great, photo-heavy post detailing the Mad Men birthday party that she put together. She started with some classy martini-themed invitations in the mandatory red, black and white Mad Men color palette. She requested guests attend in appropriate attire for the show's 1960s time period, of course. Next, she made sure to have plenty of 1960s-era props and furniture, including some vintage print advertisements reminiscent of Don Draper's best campaigns. Finally, it wouldn't be a Mad Men party without some adult beverages that would fit right in at Roger Sterling's minibar. Check out her full post for a more thorough breakdown of her party, including lots of fun pictures.
Remember your celebration with a vintage birthday T-shirt that has the elegant style of the era, all with a casual look for modern life.
2. '80s Party

Regardless of whether you were actually around to experience them, the 1980s have become known for their apparent excess. Fashion was full of bright, neon colors, crazy animal patterns and spandex. Hairstyles were defined by large bangs and lots of hairspray. Video games became mainstream, both at the arcade and at home. All of these things and more make the 1980s prime themed-party material.
Jennifer Sbranti, editor-in-chief of the Hostess with the Mostess Blog, has a fantastic write-up on a bodacious '80s party planned by Alanna Andes Events + Parties + Design. The party invitations alone, which are made to look like a game cartridge for the original Nintendo Entertainment System, bring to mind a charming sense of nostalgia. Decoration ideas include old audio cassettes, VHS tapes, animal-print banners and classic '80s toys like Slinky and Jenga. Finally, the photo booth with its totally radical props – including a denim vest, neon Wayfarers and paper speech bubbles – will entertain your guests indefinitely.
Give everyone a commemorative party favor with this retro awesome birthday tee.
3. Ballpark Dinner Party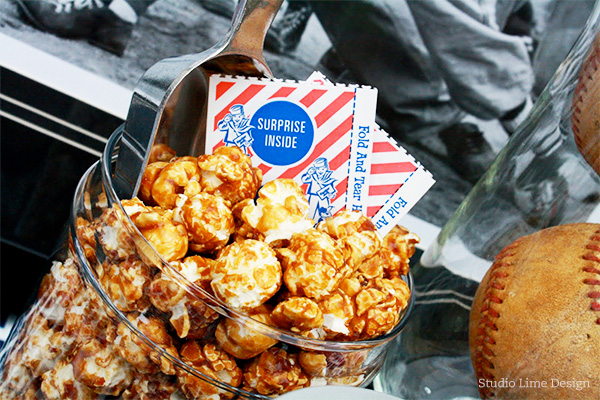 I've found that even if you're not a big fan of the sport, going to the ballpark for a baseball game is still fun. There's just something about the energy and overall atmosphere of a baseball game that feels comfortable, familiar and gosh darn it, American.
Kate over at Studio Lime Design has a wonderful post about her recent baseball-themed dinner party. For decorations, she used a patriotic red, white and blue color scheme with lots of stars and stripes. Invitations and labels also followed this pattern and were heavily influenced by the fonts and design of a box of Cracker Jack. Being a dinner party, the food was the main attraction. Classic ballpark snacks like nachos, soft pretzels and Baby Ruth's were served, along with a "build-your-own-dog" bar where you could load up your hot dog with a variety of fixings. For dessert, guests can enjoy some vanilla ice cream served in a mini batter's helmet. Oh, and don't forget the ice-cold beer!
That iconic beverage fits right in with the Cheers and Beers birthday shirt. Make it look sportier with our Names and Numbers feature.
4. Game of Thrones Dinner Party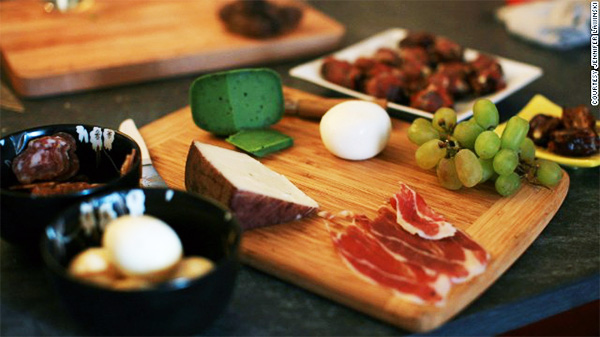 "Game of Thrones" is the popular HBO fantasy series based on the book series, "A Song of Ice and Fire," by J.R.R. Martin. While the story is set in a medieval land called Westeros and features mystical creatures like dragons and undead "white walkers," the show deals with a number of modern issues and is heavy on political intrigue.
Originally for binge-watching with friends, the feast from Spruce Eats is terrific for a birthday party. Start with the meat-filled Hot Pie's pasty. Then, you can go all-in with every entrée on the list or focus on specific ones for the person you're celebrating. From roast chicken to Arya's meat pies, there's something for anyone on the menu. Enjoy cherry pie for dessert and themed alcoholic drinks too.
Does the birthday girl love the wilderness in Game of Thrones? Look at camp shirts as a base for a birthday tee. Is the special guy all about the North? Winter tees could be what you need. Try out our AI text-to-image tool for more unique designs.
5. How I Met Your Mother Party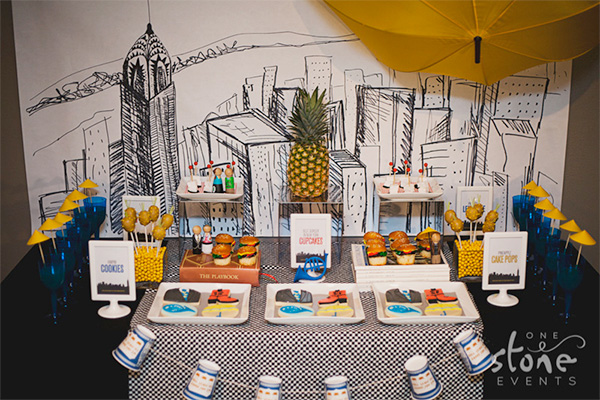 Finally, we have what might be my favorite party theme in our round-up. In fact, some may even describe it as "legen…wait for it…dary." One of my favorite television sitcoms is "How I Met Your Mother," and Elissa Stone of One Stone Events has put together a truly epic party based on the hit show.
Only die-hard fans of HIMYM will appreciate the details of this party, as every single aspect is a reference to many recurring themes and jokes on the show. Yellow drink umbrellas, red cowboy boot cookies, "best hamburger in New York" cupcakes, an "Intervention" banner and even a live goat are just a sampling of the clever touches that only a dedicated viewer would understand. If you're a fan of the show, this post is worth checking out – if only to quiz yourself on all the witty references. Now, put your favorite Robin Sparkles cassette in the boombox and break out the laser tag gear, because it's party time!
Think playful for a custom birthday T-shirt at this party. A Kiss Me design is on point for Barney fans, for example. Check out other birthday shirt ideas to find even more inspiration.
See? Adults can have fun parties, too! This is just a handful of ideas for fun, themed parties for adults. The possibilities are endless! Have you thrown any unique parties for adults? Tell us about them in the comments.